Hey there you!
I was tagged by the lovely Amanda @ My Books Opinion Site to do The Book Sacrifice Tag! Thank you so much Amanda for tagging me and you guys should go check out her take on this tag as well.
So today we are sacrificing some of my least favorite books with the help of different situations. I sincerely apologize if I've mentioned any of your loved books, some sacrifices were just destined to be made.
So let's get to it!
Situation: You're in a store when the zombie apocalypse hits. The military informs everyone that over-hyped books are the zombies only weakness. What book that everyone else says is amazing but you disliked do you start chucking at the zombies?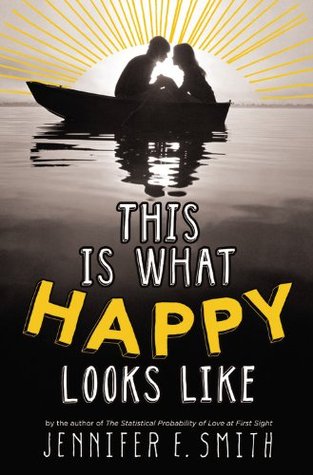 I don't know if This Is What Happy Looks Like is over-hyped enough for this situation, though it has 38,980 rating on Goodreads which is a lot. I really disliked this book, like I literally skimmed my way out of it. I expected it to be a cute little contemporary but it didn't deliver, I think that it was because of Jennifer E. Smith's writing style.
The author's writing style just don't work for me. I gave up reading her other book The Statistical Probability of Love at First Sight , which is a clearly more over-hyped book, after a few chapters. So basically, I've been avoiding her other works since then…but when a zombie apocalypse hits, I'll definitely be chucking these two books at the zombies' faces.
Situation: torrential downpour. What sequel are you willing to use as an umbrella to protect yourself?
I LOVED THE GIVER SO MUCH, IT WAS A REALLY GREAT READ but Gathering Blue just lulled me to sleep. 
It was so boring, it was the biggest disappointment ever. I don't even remember how on earth did I finished it.
I actually haven't finished The Giver Quartet, and I don't think I'll ever will. The third book was pretty good and enjoyable but I just couldn't really get into the last book, like I always fall into sleep after reading five pages of it.
Situation: You're in English class and your professor raves about a Classic that "transcends time". If given the opportunity to travel back in time, which Classic would you try to stop from ever publishing?
I haven't read a lot of Classic books. I have tried to read some popular Classics, I really couldn't get myself into reading it.
BUT DON'T YOU WORRY, I WILL READ A CLASSIC VERY OR NOT-SO SOON! HAHA.
Situation: apparently global warming = suddenly frozen wasteland. Your only hope of survival for warmth is to burn a book. Which book will you not regret lighting?
I have only a handful of books that I've read and didn't like and Nick & Norah's Infinite Playlist is on top of them. This book is pretty short but I still couldn't finish reading it. I don't know I just didn't like it over-all, and I just skimmed it all the way.
The surprising thing is that I actually liked the other book of these two authors, Dash & Lily's Book of Dares. But this one is just meh, no, not for me.  I would not hesitate to burn it, and who knows maybe it'll turn into Nick & Norah's Infinite Fire and it'll burn and give off warmth forever.
---
I tag Emma @ Corn Reviews Books, Jordan @ READBYROE, Amy @ Inky Spells and YOU (if you want to do this tag, feel free to do so!) 
---
SHORT LIFE/SCHOOL/READING UPDATE:
So today was the first day of school, and as expected it was pretty uneventful. Nothing special happened, we just had a general assembly which lasted for 2 hours and we weren't allowed to sit. And oh, did I mention that we were required to wear heels? YES STANDING UP FOR TWO HOURS IN HEELS, IMAGINE THE TORTURE. I currently have a headache and my feet hurts like hell.
School will be pretty stressful, I can feel it. I wake up at 5 in the morning because school starts at 7 am, and ends at 4 pm. I arrive back home at 6 pm or maybe much later. So I'm so sorry guys if I'll be slightly less active here.
For my reading, I have to admit that I'm in a bit of a slump. Yeah, it's the worst. I tried reading Saint Anything but I couldn't get into it. I have finally tried Netgalley last week, and wow because I got approved in a few titles which is awesome. So maybe, I'll prioritize reading those first and then I'll start reading The Lunar Chronicles! Yay!
So sorry if I haven't replied to some of your comments, my head is just really killing me tonight. I promise to catch up on everything in the morning or after school tomorrow. Gosh, I just finished my first day but I already miss summer so badly. (sighs)
So that's all for this post. Hope you all are having a great day/night! ❤ Happy reading everyone!
Please do leave any comments, thoughts, messages, reactions, and/or suggestions! Thank you for reading. Until next time,
❤ Louise